What Makes Us Different?
We work on a fee basis, rather than commission. This means that we trim the fat and pass the savings onto you.
Our advisors are highly adept at listening deeply to the needs of business owners like you to find the right HR, healthcare and payroll solutions for your business in real-time. We do this all without the exorbitant fees or hassle.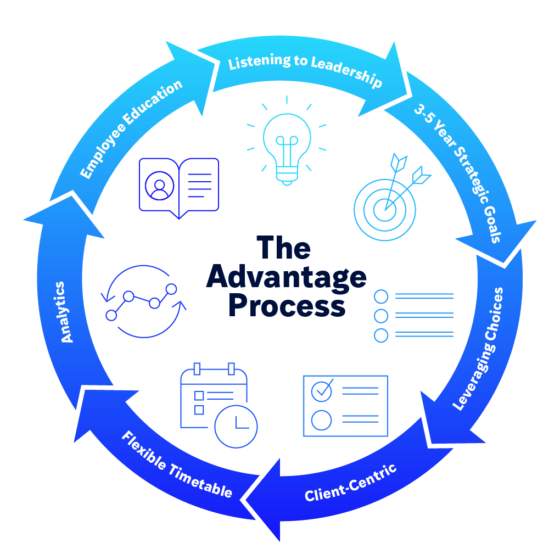 1
Listening to Leadership
We let you do the talking, so that we can understand both the core competencies and tiny intricacies of your business. By learning the ins and outs, we can create a tailor-made solution that fits the exact needs of your business.
2
3-5 Year Strategic Goals
When it comes to implementing solutions for your business, we're not looking for a quick fix, we're looking for sustainable advantages that will optimize your business operations not just in the weeks ahead, but for the long haul.
3
Leveraging Choices
Every business is different, so you need options to fit your needs. By answering some simple questions and talking with our advisors, we'll get a better idea of your exact needs and present you with numerous options to choose from.
4
Client-Centric
We will provide recommendations for your business, but ultimately, it's you who makes the final decision. We won't nudge, prod or push when it comes to your process, but we will hold your hand to the finish line when finding what's right for your business.
5
Flexible Timetable
Maybe you're looking to rollout your new payroll services or employee benefits as early as Monday! Or maybe you have weeks or even months to roll this out. When it comes to your work with us, we're on your timeframe.
6
Analytics
We tend to let numbers do the talking. We'll be able to use a data-centric approach to determine what's best for your organization. Remember, we work on a fee basis, rather than commission. So, we'll work to keep you lean and optimized, using analytics along the way to fuel our approach.
7
Employee Education
Any company is only as strong as its employees. That's why we engage employees in dynamic education activities, which helps your company to stay up to date on crucial information, while integrating employees more deeply into your company eco-system.